BEST VIEWED with your browser at the 100% setting :)

Website Designed for Silkspike Dolls using HOMESTEAD software.

Please do not use my photos or any portion of my website without asking permission.

This little dress is easy to sew and designed for beginners. It is also ideal for anyone who wants to dress all of their Riley dolls up for a theme. Make one or make twenty!

Just download the two PDF files, measure the test square to see if the pattern printed at the correct size, and start cutting and sewing.

I would love to see your results. :o)

Page created Feb 10, 2016

"Calypso" - Photo kindly furnished by Lel-Bills - who trusted me enough to let me borrow her doll, Clover to make my patterns and tutorials.

I don't own any Riley dolls.

PATTERN

&

TUTORIAL

NOTE: According to which browser you are using, select these options:

CUSTOM SCALE 100%

and/or

UN-CHECK

the block that says

FIT TO PAGE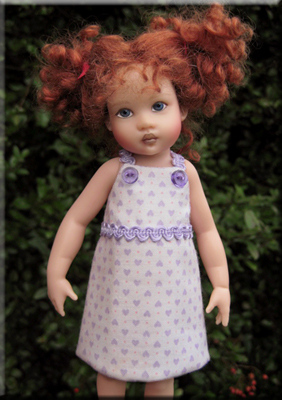 CLICK THIS ICON

TO DOWNLOAD THE PATTERN

CLICK THIS ICON

TO DOWNLOAD THE TUTORIAL

THANK YOU so much for downloading my pattern. I hope you enjoy using it. Please be kind, and if you share your results on the Internet, please mention that your item was made from a pattern by Silkspike Dolls. I don't mind you using my patterns and selling the results of your OOAK designs, but please give credit where credit is due since I work so many hours to develop my patterns and make them into computer files. Please feel free to share my Etsy Shop link on your social media and on doll forums, etc. I would appreciate that.

This is a doll dress sewing pattern, FREE for you to download. I do not sell these dresses.